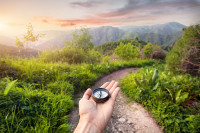 If you are looking for professional counseling in Phuket, you have found the right spot. Here at Phuket Counseling we offer Mindfulness based counseling and lifecoaching services. Dr. Christian Warzinek has 25 years of experience with transactional analysis and is available for online and offline sessions throughout the year.
Tobi Warzinek is in charge of intuitive & awareness based counseling. His background is within the Tibetan and Thai Buddhist tradition of mind training. Within the framework of his mind-training retreats, workshops and seminars he has been counseling and inspiring hundreds of people within the past 9 years.
We also offer Ayurvedic Medicine in Phuket. Dr. Choosri comes with a vast experience in the field of Traditional Thai Acupressure Massage Techniques and ancient Indian Medical treatments. This is your address if you are looking for authentic treatments.