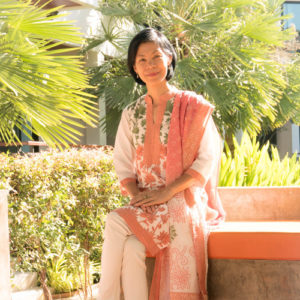 Dr. Choosri is our Ayurvedic and Traditional Thai medical expert. She has been studying and working as an instructor and doctor at Wang Nam Yen Hospital in Sakeaw,
Mae Fah Lung University in Chiang Rai and Kanchanabhisake Institute of Medical and Public Health in Nonthabburi between 2001 and 2009. In 2014 she received her Bachelor in Traditional Ayurvedic Medicine and Surgery (B.A.M.S) from Gujarat Ayurvedic University. In total, Dr. Choosri has studied Ayurvedic Medicine for 6 and a half years in India. She added a course in Naturopathy and Yoga in Patanjali Institute of Gujarat Ayurvedic University as well. Dr. Choosris extensive experience in theory and practice is now available during our retreats.

---
Selected Treatments:
1. Abhyanga:
Whole Body Ayurvedic Oil Massage (60 min 2100 bath)
This Indian Ayurvedic massage is used to heal and detoxify the body. Warm oil penetrates deeply into the recipient's skin which helps to remove toxins that have accumulated over time. It improves circulation, rejuvenates the body and relieves stress.
2. Swedana:
Treatment with Hot Herbal Compress (30 min 750 bath) This type of treatment can help to release stiff muscles. Thus it stimulates circulating of blood flow and
healing throughout the entire body. This treatment leaves you feeling lighter and comfortable within your body.
3. Thai Acupressure Massage:
This special type of massage is using pressure points to unblock and release trapped energy in the body. It helps with various orthopedic disorders such as back pain, stiff neck and shoulder pain etc.
Treatment for a Specific Body Part: 45 min 1500 THB
Whole Body Acupressure Massage: 90 min 2500 THB

---
Ayurvedic Medical Examination
Dr. Choosri is available for a thorough medical examination and evaluation upon request. She can help you determine your Ayurvedic body type (Prakriti) and teach you how to manage your nutrition and life-style according to it. Dr. Choosri also teaches selfacupressure massage and can introduce you to efficient Ayurvedic cleansing protocols such as Basti (enema), Nasya Karma (nasal rinsing) and Akshitarpana (eye baths). She offers a variety of natural Thai herbal remedies and supplements to enhance wellbeing and speed up healing processes. When Dr. Choosri is around, make sure to get in contact and simply ask her foradvice. She is always happy and ready to help.